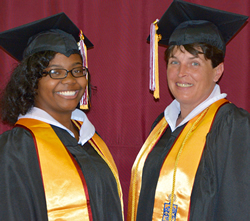 Coahoma Community College's Business Department will be in the limelight during the 2016 Commencement Exercises with both the class valedictorian and salutatorian coming from its programs.
Leading the class is Gabrielle Scott (Gunnison, MS), a Business Administration major, followed by Sandy Tomlinson (Lyon, MS), an Accounting major.
Scott, 19, said she was compelled to complete an associate's degree at CCC after earning 12 college hours in high school through the Dual Enrollment Program.
"I chose Coahoma because it was close to home and affordable," said Scott. "It was a great experience. I'm thankful I was able to get my basic courses out of the way here."
She recognizes CCC Business Chair Deborah Carter as one of her most influential instructors.
"I admire Ms. Carter because she's been able to achieve so much in life," she said. "She doesn't mind sharing her different experiences from teaching and working, and she has taught me a lot about the business work field."
Tomlinson, a non-traditional student who returned to college 20 years after graduating high school similarly credits her instructors for providing her with the skills needed to take her education to the next level.
"Coahoma has some very good instructors," she said. "The classes are small here and the teachers really get into it."
Tomlinson said she never considered returning to college until she was laid off her job of 20 years.
"I was driving around and looking for a job, but I didn't find many opportunities that interested me, so I decided it was time for me to go back to school," she said. "I chose accounting because I've always loved numbers."
Two years later, she has not only completed her associate's degree, but also excelled at the highest level.
"I'm elated I decided to begin at CCC because, I don't know if I could've handled it otherwise," she said.
She encourages others who may have been out of school not to be afraid to pursue their dreams.
"It's an awesome feeling. I showed my daughter who's in 7th grade that it can be done … if I can do it, anyone can do it."
Scott encourages high school students to take advantage of the many resources available to them.
"I would really encourage them to take advantage of the dual enrollment program CCC offers because it cuts your time in half and makes your course load much lighter in college," she said.
As the graduates continue their education at Mississippi State University (Scott) and Delta State University (Tomlinson) this fall, they leave these words of wisdom for other students.
"No matter how hard the classes are, always strive to do you best and take the time to talk to your instructor or other teachers who may be able to help you," said Scott.
"Don't stop here … continue on—don't stop here. Let Coahoma be the stepping stone to get you to where you're trying to go in life," added Tomlinson.