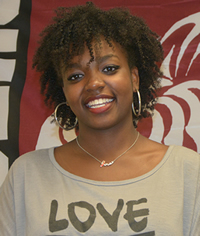 Coahoma Community College can help get you anywhere you want to go in life—just ask Freshman Shalom Wallace.
At just 16 years of age, the aspiring dancer began her college career at the TigerNation after being homeschooled through middle school and high school.
She's using it as a vehicle to achieve her larger dream of attending college at Southern University where she plans to study dance.
"I think it's smart to come to a community college first because it's a lot easier not only for you but for your parents financially," said Wallace, a native of Alligator. "You can get the feeling of going to a college, being on a college campus and doing college courses in a small, friendly atmosphere. It's also a good idea to get your pre-requisites done beforehand so that once you transfer all you're going to be dealing with is your major."
Wallace, a Spanish and Foreign Languages major, said she also liked that fact CCC is close to home and has met several great instructors, including Mr. (Raymond) Pullen and Mrs. (Barbara)Boschert, already.
"Mr. Pullen is very easy to talk to. He explains Spanish well for me to understand and he puts the fun into learning a new language," she said. "Mrs. Boschert is an awesome woman. She's also very fun and always comes up with creative ways to help us learn. She also gives us life skills."
But when she isn't busy maintaining her 4.0 grade point average, her concentration is on dance.
"When we first moved to the Delta when I was around 5-years-old, I started taking ballet and tap dancesin Clarksdale," said Wallace. "I danced consistently for about five years then I stopped and my interest turned to swimming."
However, it wouldn't be long before she focused her attention back on her first love.
"When I was about 12, I was dancing and I was really enjoying it. My father told me I was a really beautiful dancer and that inspired to consider pursuing a a career as  professional dancer for the first time," she said.
She then began to pursue the discipline lifestyle that dancing requires.
"I started off extremely late for a ballet-learned dancer because they begin to pursue it seriously at 4 and I started at 14," she said. "It's difficult because it's a lot of responsibility physically and mentally."
Wallace said she's spent the past two years working really hard to get herself prepared to compete in the professional world. She works with a personal trainer and follows a strict workout regimen and pescetarian diet.
"I have two years during my time at CCC to get 10 years of experience in ballet in my life before I go off to school," she said "But I love every second of dancing. I most enjoy observing the emotion of the audience—feeling their energy makes me want to dance even more."