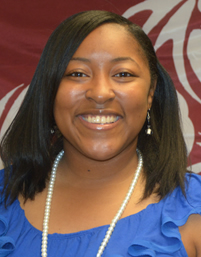 Shanelle Frazier not only performs her job at Coahoma Community College competently; she does it with a smile.
Recognized by her colleagues and students for her cheery soul and energetic personality, Frazier said the positive vibes come easily because she genuinely loves what she does.
"There's no secret," she chuckled. "I'm a very spiritual person, so I just put all my trust in God, and I thank him for making me naturally happy. …I love to smile."
Frazier, who has served as CCC's Distance Learning and Dual Enrollment Coordinator since 2010, kicked off her own college education at CCC after graduating from Clarksdale High School.
"Like most high school students I had planned to go off to college somewhere. It took the testimony of CCC alumnus at my school to make me really stop and reconsider," she said.
Ultimately, it was the recruitment effort of CCC Business Chair Deborah Carter and an full academic scholarship offer that sealed the deal. Frazier said it was one of the best decisions of her life.
"CCC definitely prepared me and was a great foundation for me," she said. 
Frazier was very active on campus as a cheerleader and participated in numerous clubs and organizations. She also represented her cohorts as Miss Sophomore.
 "I loved every minute of it … My time at Coahoma was amazing."
She went on to become the second person in her family to receive a bachelor's degree when she obtained a B.A. in Mass Communications from Mississippi Valley State University and the first person to receive a master's degree after graduating from Arkansas State University.
She began a career in higher education with her current position at CCC.
Frazier is responsible for overseeing the online courses available to CCC students as well as dual enrollment courses offered to area high school students. She also assists with the implementation of online portals, such as Canvas, in the classroom.
"We're really keeping up with the times and competing with the bigger universities and colleges," said Frazier. "Our instructors are well-trained so that if they go anywhere else, they'll be just as competent as those from bigger universities and colleges. Canvas, the learning management system that we use, is becoming more and more popular so our students will leave here familiar with that platform as well."
Outside of work, Frazier is heavily involved in her church, Real Faith Christian Church of Clarksdale, where she serves as the communications director and is a member of the praise team and choir. She also volunteers with the local after-school program Spring Initiative.
"I love staying busy—I can't have down time. I get that when I sleep," she said with her signature smile. "But seriously, it's all about paying it forward. I was in a mentorship program growing up and I know the impact it had on me. Now it's my time to return the favor and give our students the same direction."
Frazier's future plans include advancing her career in higher education.
"I love helping students," she said. "I know it's a cliché' but I honestly believe that children are our future and know that what I can give them by helping and mentoring them, can make all the difference in their lives."