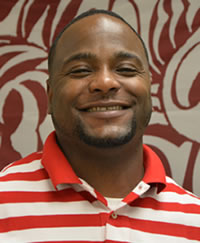 As the saying goes, "third time's a charm" for freshman Shanori McCray.
The 31-year-old art major is currently consumed in his third stint at Coahoma Community College, after being forced to withdraw several times to perform his service with the United States Army.
A member of the U.S. Army Reserve, McCray has performed four full tours—three in Iraq and one in Afghanistan. He was also part of the deployment of troops that responded after Hurricane Katrina in 2005.
"Being in the army has given me a different look at the world," said McCray. "It exposed me to different ethnic groups that may have different practices, but really aren't all that different."
A native of Marks, MS, McCray comes from a family of Tigers.
"My mom, father, brother and sister all went to CCC, so for me it was just convenient to begin here and get a good start on my college degree," he said.
Even from his first experience as a CCC Tiger, McCray's interest and major has always been art.
"I've been into art all of my life," he said. "I developed a visual interest in art at a young age because of my brother who drew a lot … I began drawing and became pretty good after a while." 
McCray pulls from experience and natural instinct when composing an art piece. His favorite is still life— a work of art depicting mostly inanimate subject matter, usually common, every day items.
Although he is a non-traditional student, McCray doesn't use that as a crutch and, in fact, sees it as an advantage.
"It's cool because I can still relate with the students, but I can relate with the teachers also. It gives me an advantage to see it from both sides," he said.
One instructor who has inspired him the most is Art Chair Rosalind Wilcox.
"Ms. Wilcox—she's a motivator," said McCray. "She doesn't let anything stop her. Even being legally blind, that artwork that she puts out is just amazing. She makes me question 'How can I dare say what I can't do?'"
After Coahoma, McCray plans to work towards a degree in physical therapy and hopes to one-day own his own "up-scale" massage spa.
He hopes his story is an inspiration for others who may have had to put their college education on the back burner for whatever reason.
"In life you never stop learning so it's never too late to advance and take on new skills that you want to pursue," he said. "Keep striving for excellence. Never stopping wanting to learn new things and learn from other people—that's why God put us here together, to take from each other's experiences."