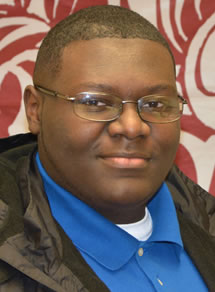 It's just his second semester, but Tre'Shawn Malone is already diving into his sophomore year.
That's one of the big advantages Coahoma Community College has presented the 18-year-old Jonestown, MS native.
So just how did he do it?
Tre'Shawn completed three dual enrollment courses through CCC while getting his high school diploma at Coahoma Agricultural High School.
"I was extremely excited for the opportunity to earn some college credits before most students," said Tre'Shawn. "At first I was hesitant to take on so many college courses thinking it would hinder me from getting my high school diploma, but after taking the first course, I saw that there was a lot of support."
He said he's most grateful that he could take the courses in the daytime during his normal school schedule.
"Other places probably would've required me to take dual enrollment courses at night, but at Aggie I was given the opportunity to take them in the day. … I don't think I would've received as much support at any other school," he said.
 So, of course, after graduating from Aggie, Malone felt that CCC would be a natural transition. 
"Never under estimate the power a community college can give you," said Tre'Shawn. "For me, Coahoma has had a great impact… not saying had I went directly to a university I wouldn't have had the same kind of support, but coming to Coahoma is just a great start."
One of his most memorable experiences so far for the General Education major has been Dr. Kishki Hall's Public Speaking course.
"Her class is a really a big push—now that's a real college course," he chuckled. "When I took her I thought that her class would get the best of me, but she always gave us encouraging words. …In retrospect, staying up until 1 a.m. and 2 a.m. to complete her assignments was good preparation for when I move on to a university level."
A self-proclaimed introvert, Tre'Shawn said he's also growing out of that shield.
"I'm coming out more now because of Coahoma—particularly being a member of the Student Government Association and Phi Theta Kappa."
Outside of school, Tre'Shawn seems to be a budding renaissance man.
He enjoys playing the piano and began to self-teach himself at the age of 7.
"I had one piano lesson and the instructor told me that I was not teachable. However, I didn't accept that for myself, and I began to learn to play by ear," he said.
He's also the choir director of New Hope church in Jonestown and has been in that position since he was 11.
Another hidden talent of Tre'Shawn's is baking cakes.
He said he picked up the hobby from his mom and has gotten so good that his cakes can easily rival those at your local bakery.
After CCC, Tre'Shawn plans to continue his education at Delta State University.
A lover of writing and editing, he plans to one day become an English educator.
But for now, he's enjoying his time at the Tiger Nation.