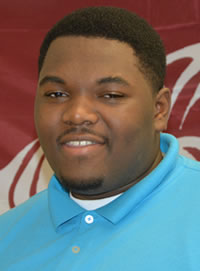 The decision to attend Coahoma Community College after high school almost came natural for freshman Walter Sykes.
"Both of my parents, the majority of my church members and most of my family attended  Coahoma Community College," said the 18-year-old General Studies major from Jonestown, MS.  "Plus, Coahoma actually gave me the opportunity to perform better academically before enrolling at 4-year university."
What Walter didn't know was that his freshman year, he would be elected to serve as President of the prestigious Student Government Association (SGA) for the upcoming 2015-2016 academic year.
"It was an opportunity that was available to me and I just decided to go for it," said Sykes. "I never dreamed that I would one day be able to represent the Coahoma student body in such a magnitude."
Sykes said it feels good to know that his fellow classmates have faith in him.
"It's kind of exciting, but it's also a lot of pressure. … I like pressure though because it makes me perform even better," he said.
Having participated in several clubs and organizations on campus, including CCC's choir, band, and serving as a dormitory Resident Assistant, Sykes definitely has the experience and insight needed to be effective in the role.
Plus he's been able to do it all while keeping his grades in tact.
"It's all about organization and prioritizing," said Sykes. "My advice to incoming freshmen is to have fun, but also know that school comes first."
After CCC, Sykes plans to Oakwood University in Huntsville, Alabama to pursue a bachelor's degree in Music. He hopes to one day became a music teacher.