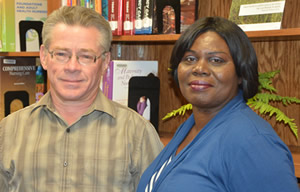 Behind every great program is a hard working team. Coahoma Community College's Associate Degree Nursing (ADN) Program is no exception.
Meet ADN Program Director Lorean Willingham and ADN Instructor Charles Smith—the dynamic duo who has helped to build and sustain CCC's ADN program.
Both used their extensive backgrounds in nursing to help build CCC's program, that recently received national accreditation, from the ground up.
"It was a challenge, but having helped to build programs from the ground up at the hospital prior to coming to CCC, I was up for the challenge," said Willingham.
"Initially I was totally lost," admitted Smith. "I've said many times that all it takes to go from feeling totally competent to totally incompetent is to go from something you've been doing to something you haven't. As a nurse in the hospital, I could go anywhere and do anything. But when I came over here, I think that the biggest revelation was just because you know, it doesn't necessarily mean you can make your students know it."
Willingham was finishing up her master's degree when she was recruited by CCC in 2006 to join the blossoming Division of Health Sciences. Smith joined the team shortly after.
"I was thankful to then director who hired me and gave a rookie a chance," said Smith. "It has definitely been an eye-opening experience…much more to it than what meets the eye."
A native of Dallas, Texas, Smith moved to Mississippi in 1986. While he always knew he wanted to be in the medical field, Smith only seriously considered nursing when plans to become a surgeon didn't quite pan out.
"Chemistry and I didn't get along and chemistry didn't care," said Smith. "The bottom line was I wanted to help people and nurses did that. So I thought since practicing medicine was not it, nursing would be the niche' to pursue."
After receiving his bachelor's degree from Mississippi University for Women, Smith jumpstarted his nursing career at the Oxford-Lafeyette County Hospital, now known as Baptist Memorial Hospital-North Mississippi. He's worked in everything from the cardiac telemetry floor, to intensive care and the recovery room.
He eventually went back to school at Delta State University where he received his Master's in Nursing. Smith said he instantly knew that had chosen the right career.
"It's a field that has many opportunities so that you never have to get burned out on your job," he said. "It has a lot of areas you could work in, and my father taught me growing up that the more versatile you are, the more valuable you are to an employers."
Willingham expressed similar sentiments. Growing up in Tallahatchie County, Mississippi as the eldest of ten siblings, Willingham was first exposed to nursing while visiting with a family member in the hospital.
"I really was inspired by a Nurse Assistant that came in while I was staying with a family members," said Willingham. "She was very empathetic and that made a lasting impression on me."
After high school Willingham attended Northwest Community College where she obtained her associate's degree. She later went on to receive a bachelor's degree from Delta State University and a Master's Degree from William Carey University.
She spent most of career at Merit Health Northwest Mississippi, formerly Northwest Regional Medical Center, where she worked as a nurse in just about every department in the hospital and helped to organize and had oversight of several units
Bringing those skills to CCC, Willingham said a major goal in designing the program was to ensure that students are equipped with the critical thinking skills they'll need in the hospital by the time they graduate.
"Since all of us have 10-plus years of practical experience—we knew what we wanted to put in the students before they graduated," said Willingham. "In addition to giving them theories, we also made sure they had those critical thinking skills and clinical skills they needed to function at the hospital so that our students would be looked at more."
Smith said the tactics have been successful.
"We thought for years—we knew that our heart was in the right place, we knew that we were trying to prepare the students—so to pass the accreditation was like validation that we were doing something right," he said.
Both agree that their students' success is the most rewarding aspect of their job.
"I feel like a proud father every time our students walk across the stage during the pinning ceremony and at graduation," said Smith. "I tell the students that they give me much more than I give them; they give me a sense of purpose."
"It's really a joy when I go into some of the facilities and I see my graduates and they give me big hug and they're happy with what they've chosen to do," added Willingham.