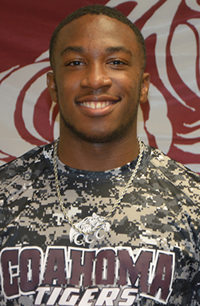 For Xavier Redmond, Coahoma Community College represents the gateway to his dreams—college and football.
After graduating from O'Bannon High School, the 19-year-old, Greenville, MS native was disappointed after he hadn't initially received any football scholarship offers.
"I sent my highlights to the coaches at Coahoma and they gave me a phone call saying that they had interest in me," Redmond said.
He was ecstatic to be subsequently extended an offer.
"I felt good behind it because I thought I wouldn't be given the opportunity to play anywhere, but I prayed and asked God to send an offer my way because I didn't want it to be the end of football for me and He did," he said.
Redmond's now a sophomore reveling in his Tiger Nation experience.
"I've made some new friends … it's just been a great experience for me, and being away from home has helped me to become much more responsible."
A big part of that experience has been, of course, Tiger football. The sport has been a big part of Redmond's life since he was child.
"I stuck with football because it's a sport I've really been into for a long time—since I was a kid and my father played … he began coaching me as I child, and my interest grew in the sport," he said.
Redmond has played Defensive Back since high school and said he's even more appreciative of the role now that he's playing on the collegiate level.
"I like creating turnovers and setting the tone for the offense  by forcing the other to team to punt and placing our offense in the position to score," he said.
Redmond is also just as dedicated in the classroom and is an honor student.
"I understand that I have to keep my grades up if I want to continue my education after Coahoma," he said. "Coach (Karl Morgan) has a study hall program in place after every practice, so when we don't get the chance to do homework, that's the opportunity for us to catch up after practice and stay caught up."
Redmond also looks to Morgan as a positive male role model.
"He inspires us to not quit and to work as a team because it's not about one individual, it's a team effort. He's teaching us to become men out here in the world," he said.
While he genuinely enjoys the game, Redmond is using football as a vehicle to achieve his dream of one day becoming a physical therapist.
"Sometimes people have to face injuries and consequences that comes along with that. Being into sports myself, I would like to help individual's overcome those issues," he said.
He's also taken away many life lessons from the games as well.
"Stay humble, keep God first, and in whatever you do, don't take it for granted … take it serious because at this level it really determines how far you'll go," he said.