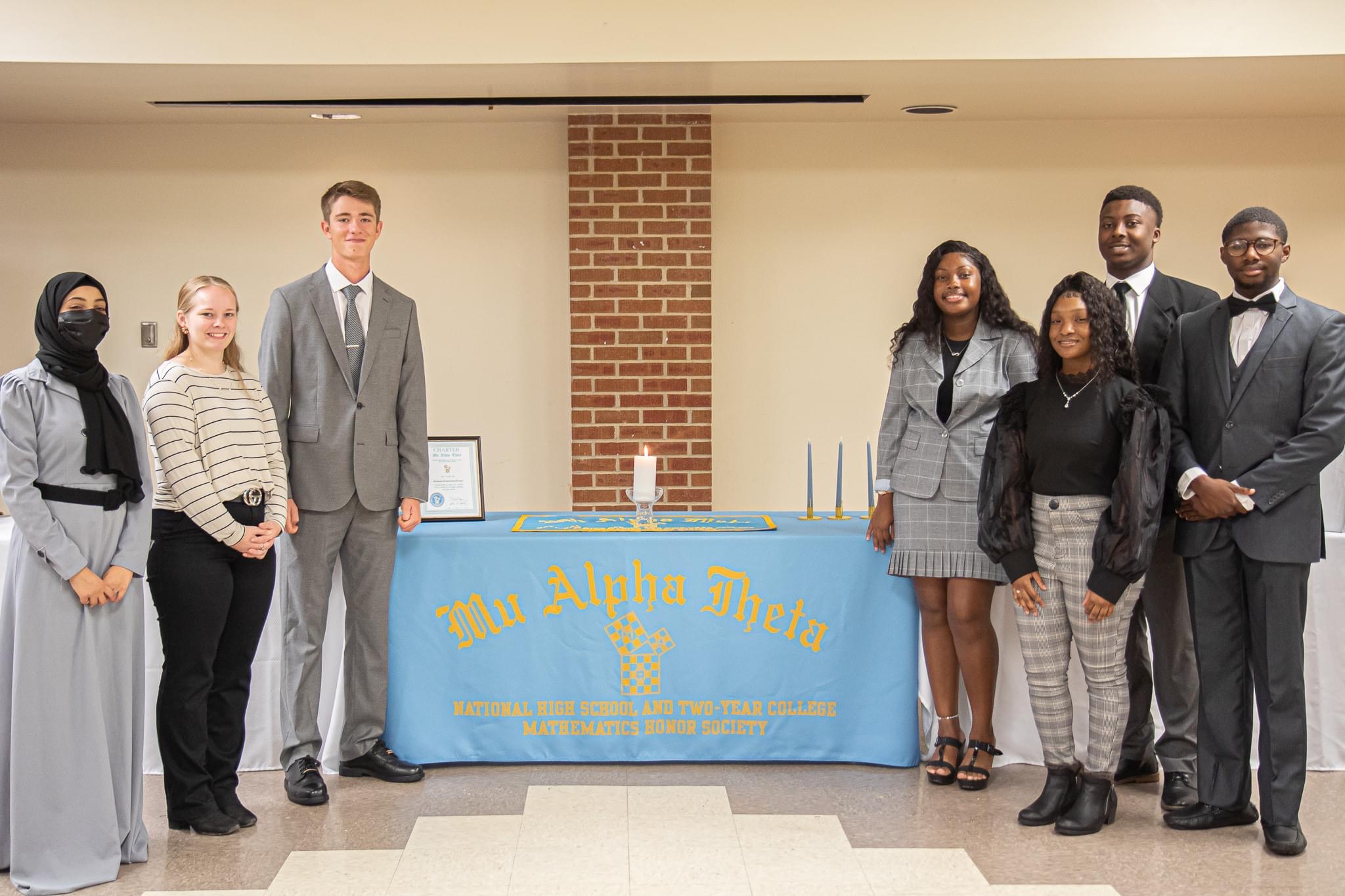 On Tuesday, November 8th, 2022, the Coahoma Community College (CCC) Chapter of Mu Alpha Theta held its inaugural induction ceremony for its newly-chartered chapter. The event, which took place in the Zee A Barron Student Union's Magnolia Room, honored 10 inductees of the honor society.
Established on the CCC campus in the Spring of 2022, Mu Alpha Theta is the national high school and two-year college mathematics honor society. The organization aims to promote scholarship, enjoyment, and an understanding of mathematics among high school and two-year college students.
Jacob Lanier, president of the Math and Science Club and freshman Mathematics major, expressed his gratitude for being a part of this honor society, noting the difficulties in achieving such an honor.
"I am very honored to be in this honor society because it is tough to get into, especially with Math being a difficult subject," Liner shared. "I am thankful for everyone involved in the Math and Science Club and all the work put in to make Mu Alpha Theta come to life."
The Mu Alpha Theta Honor Society ceremony came after recognizing individuals who have at least a 3.0 math grade point average in courses at or above the College Algebra/Pre-calculus level.
Dr. Valmadge Towner, president of Coahoma Community College, served as the keynote speaker for this celebratory occasion.
Towner is a Marks, Mississippi, native and has held many roles associated with CCC prior to becoming the 5th president of the 73-year-old HBCU. He is a 1989 graduate of the institution, a status that ignites his passion for elevating student success and creating enriching opportunities for students.
He congratulated the inaugural group of inductees and chapter in the Math and Science Club. He continued his speech by giving scholars an acronym to take with them throughout life called P.E.T., meaning Patience, Education, and Thriftiness.
"Anything that is done easily or given easy, it is not good for you. Wherever you want to go in life, you must have patience. You have to have an education that produces knowledge in your mind and the ability to do something. Those skills, training, and knowledge are what you get when you come to Coahoma Community College," Dr. Towner said.
Towner then continued to explain the acronym to the inductees and express what it means to be Thrifty.
"Many times in life, in order to make it, you have to refrain from taking low-hanging fruit, meaning you have to do what you don't want to do now so that you can do whatever you want to do in the future," Dr. Towner expressed. "So, that can mean you have to study, be patient, or wear clothes that don't cost a lot right now. By doing these things now and being thrifty, you can do whatever you want later."
To conclude his speech, Dr. Towner talked to students about equality and equality.
"By being in the math and science field, you have the capacity to learn complex things. When you can do certain things, you should always use what you know to benefit yourself and others in your community," Dr. Towner shared.
After Dr. Towner's encouraging speech, students signed their names in the Mu Alpha Theta book and crossed the platform to receive their candles and certificates.
Concluding the ceremony, Jerone Shaw, Chief of Staff, and Dr. Rolonda Brown, Dean of Academic Affairs, shared a few remarks and recognitions.