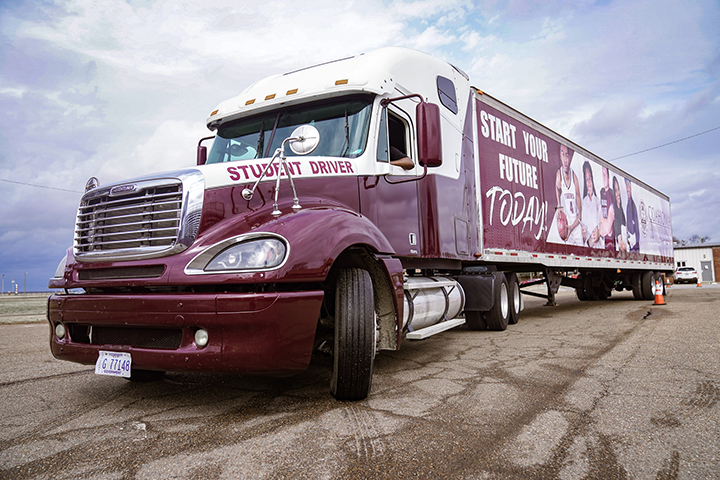 Coahoma Community College (CCC) has announced that its Division of Career and Technical Education (CTE) has been awarded $1,057,105.00 by Accelerate Mississippi (AccelerateMS) to expand its Commercial Truck Driving program and to create a Foundation of Mechatronics curriculum through a virtual reality space.
AccelerateMS is the leading office for workforce development strategy and delivery in Mississippi. The organization connects Mississippians to economic opportunity by expanding best practices in workforce readiness and career training to meet current and emerging employment opportunities.
Dr. Larry Webster, dean of Career & Technical Education, is thrilled to see these funds make impactful changes within his unit and is thankful to AccelerateMS for the needed support.
"It (the funding) is going to allow us to triple the output that our program now has," said Webster. "We are looking to expand into offering a night program and a night and weekend program for commercial truck driving."
Through the grant award, CCC will expand its Commercial Truck Driving program by offering night and weekend classes starting in January 2023. Coahoma will offer 8-week night classes Monday–Thursday from 5:00–10:00 p.m., weekend classes Thursday – Friday from 4:00 – 10:00 p.m., and Saturdays from 8:30 a.m.–5:00 p.m.
Webster noted that these additions would have far-reaching impacts, providing sought-after instruction to a hungry learner base.
"The need is there. We currently have a waitlist of over 80 applicants," said Webster. "We will now be able to serve a larger population because of the AccelerateMS funds."
The Commercial Truck Driving program prepares individuals to drive trucks and other commercial vehicles. It includes instruction in operating diesel-powered vehicles, loading, and unloading cargo, reporting delays or accidents on the road, verifying loads against shipping records, and keeping other necessary documentation. The program ranges eight weeks.
Webster said that the funds would allow Coahoma to acquire additional equipment to aid in the program's expansion.
"These funds will allow us to purchase one, maybe two additional semi-trucks. We will also be able to purchase a simulator for the program as well," Webster added. "This will give program participants an on-the-road feel without actually being on the road. They will also benefit from practicing on simulated inclement weather that we don't always see in the state of Mississippi."
Webster believes that these plans will establish Coahoma as a leader in the region for the subject area.
"Additionally, plans are in place to develop a virtual Foundation of Mechatronics curriculum that will allow CCC to offer 50% or more of the Industrial Maintenance and Electrical Technology program course without students ever having to come to the campus.
"We received some additional funds that will allow us to take our Industrial Maintenance curriculum as well as a portion of our Electrical curriculum, for which we already have simulation, to create the virtual offerings along with lesson modules," said Webster.
Mechatronics is a multidisciplinary field that refers to the skill sets needed in the contemporary, advanced automated manufacturing industry. At the intersection of mechanics, electronics, and computing, mechatronics specialists create simpler, smarter systems. Mechatronics is an essential foundation for the expected growth in automation and manufacturing. Because of the emerging need, Webster saw it fitting to increase Coahoma's capacity to deliver these offerings.
"So, in essence, we will be able to teach Mechatronics through virtual reality," Webster added. "This will allow us to be on the cutting edge in providing the services needed to ensure that our students are able to meet the demands of the job market."
Since coming on board in 2021, Webster has been aggressive in the pursuit of bold and innovative ideas to expand and elevate CTE offerings at Coahoma. His vision is to provide world-class training that will prepare learners for a rapidly changing work environment.
"I believe our students and community deserve to be trained on the best equipment and be on the cutting edge of what is going to prepare them for a global job market," said Webster. "So, with that in mind, my aggressiveness, in a sense, is geared toward bringing us up to speed with industry standards."
Webster hopes to make Clarksdale and the surrounding areas a beacon for industry and aid in the economic growth of this section of the Mississippi Delta.
"We hope to make Coahoma and the Clarksdale area a destination for industry," Webster touted. "If industry sees that we have the equipment and are on the cutting edge of providing training, along with our various partnerships, the area will become an attractive place for new businesses and industry to locate."
Webster shared that his team is dedicated to big-picture thinking and hopes to continue to look at the various needs of the community and make strides in addressing them.
To learn more about the Commercial Truck Driving program, click here.