Schedule of Events
Mask and Social Distancing is required at all events.
Monday, September 20
TNT NIGHT - TIGER NATION TAKE OVER
THE VOLLEYBALL PIT | 8:00pm
Tiger Nation will kick off Homecoming by lighting up the city skyline with a mega fireworks display to let the tiger fans know that we are back after a hiatus from last year's homecoming festivities.
The night will feature more than 1,000 fireworks shells soaring up to 1,000 feet in the air while the sound of celebration can be heard from miles away.
Students will get a chance to fill up on our Super Nacho Bar with an array of toppings, while enjoying the music from Tiger Nation, Maroon Maestro, DJ Ipod.
Tuesday, September 21
"Coahoma Forever" Spirit Display
DEPARTMENTS & DIVISIONS | 11:00am
This year our Spirit Display will evolve into an area display. Divisions, Departments, Clubs and Organization vie for 1st, 2nd, 3rd place and honorable mention by decorating their designated lot on our main campus to showcase their artistic interpretation of the homecoming theme; "Forever Coahoma".
This year's theme pays tribute to the memory of the star, Chadwick Boseman, star of the 2018 movie "Black Panther" Celebrate with us as we echo the term "Coahoma Forever"
Tuesday, September 21
"ROMP THE YARD" - FUN FEST
Tiger Tailgate Grove(Behind Martin Hall) | 6:30PM
Students get to experience a cross of an amusement park and back yard family fun. The evening will feature giant Inflatables, Slides, Interactive games, music, rock climbing wall, obstacle courses, and much more!!!
Wednesday, September 22
"Coahoma Forever" Food Truck Fest
PINNACLE PARKING LOT | 11 am -2 pm
Current & past Tiger Nation family members can't wait to get to campus as they head to the Food Truck Fest!
Mobile Food connoisseurs travel from near & far to prepare for a fun-filled day to join other kitchens-on-wheels for a smorgasbord of delicious cuisines from different cultures. It will definitely be a day of trying new things and having fun together!
With valid current I. D., students will receive a free $10 coupon to enjoy at their choice of vendors.
This event is open to the community.
Wednesday, September 22
Gospel Fest 2021
PINNACLE | 7PM
Enjoy Homecoming with a live evening concert with the renowned Coahoma Community College Choir featuring the 6 time stellar Gospel Award winner, Billboard music award, ASCAP Rhythm & Soul Award & Grammy Nominated artist, J. J. Hairston & Youthful Praise.
This artist has a plethora of hits such as "You Deserve it, No Reason to Fear, Lord You're Mighty, Incredible God, Miracle Worker, After This & Many more!!
The Concert is free and open to all!!!
Thursday, September 23
10th ANNUAL PRESIDENTIAL GALA
Pinnacle | 7:30 PM
Join us for a CCC Foundation event to help support students by raising funds to supplement financial needs of students at Coahoma Community College. "The President's Gala" provides an evening of upscale fine dining, live music, dancing and an awards ceremony for the friends and supporters of College. Everyone is invited to attend this event for a donation of $100 per person or $1000 per table of ten.
This year's line up will include "Variety" an opening duo that will grace our stage for the first time to get our musical appetizer. The headliner for this year's event will be the 70's band "Lakeside" mostly know for their Platinum hit "Fantastic Voyage"!!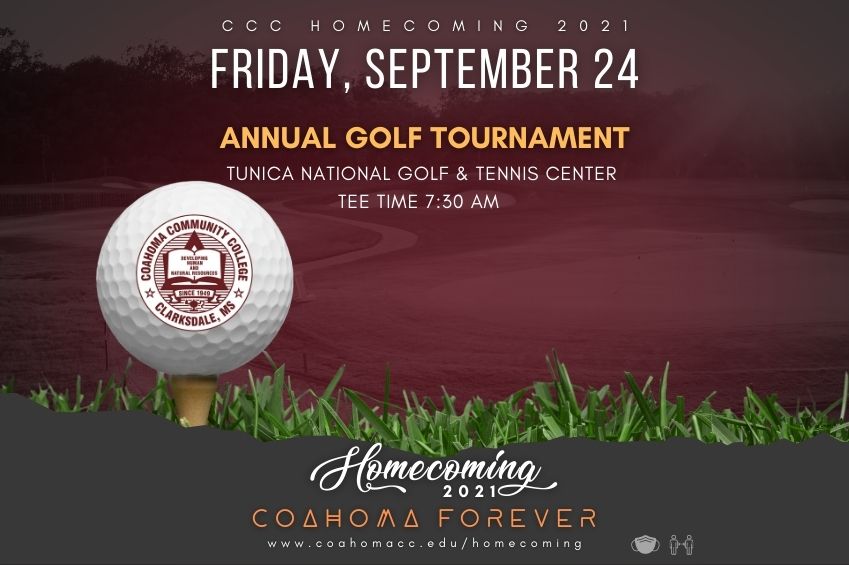 Friday, September 24
Tunica National Golf & Tennis Center | Tee Time 7:30am
Join the alumni, community as we head for the beautiful, peaceful, pristine greens of the Tunica National Golf and Tennis Center in Robinsonville, Mississippi for our Annual Scholarship Golf Tournament. (4 man scramble) The proceeds are used to fund scholarships that will be used to assist students in completing their programs of study in the academic, career-technical and health sciences at CCC. The funds raised also support efforts to retain students until they successfully complete their course of study. Come enjoy a round of golf and chances to win dozens of great prizes.
Saturday, September 25
Parade
Downtown Clarksdale | 10:00am – 11:00am
Tiger's won't let hard times rain on our parade. This year CCC will have a parade featuring our campus clubs and organizations, as well as, active alumni and booster club members.
In the festive spirit of our CCC Homecoming tradition, Divisions, Departments, Clubs and Organization vie for 1st, 2nd, 3rd place and Honorable mention by decorating their vehicles, floats and walking groups to showcase their artistic interpretation of the homecoming theme.
Saturday, September 25
James E. Miller Stadium 2:00 PM
Kickoff at 2:00pm. Gates open one hour prior to kickoff. The Homecoming football game between Coahoma Community College Tigers and the Mississippi Delta Community College Trojans.
This 2021 Homecoming Game Day halftime festivities will consist of the crowning of Miss. Homecoming, announcement of the winners of the "Coahoma Forever" Spirit Displays and Float entries, and a Virtual performance by a guest musical artist.
Each fan will be permitted to bring in one sealed bottle of water, as water fountains may not be available.
Saturday, September 25
Blues & Oldies Music Festival
Tiger Tailgate Grove | 5:00PM
CCC Blues and Oldies Music Festival will take place immediately after the Homecoming football game. Tigers, old and new embark at the stage just west of James E. Miller Stadium to revisit, revive, create friendships while singing and dancing to the sounds of authentic Mississippi blues music and the sound of old soul 70's.
This year's line-up will feature all bands with members who are CCC Alumni. Opening the day will be "Bass Rhythm & Groove" and "The Cuz Band".
The Headliner will be National Blues artist, "J Hammer"
*All sidewalks and lots may only be used as pedestrian walkways.
---

Welcome Alumni!
Plan your visit.