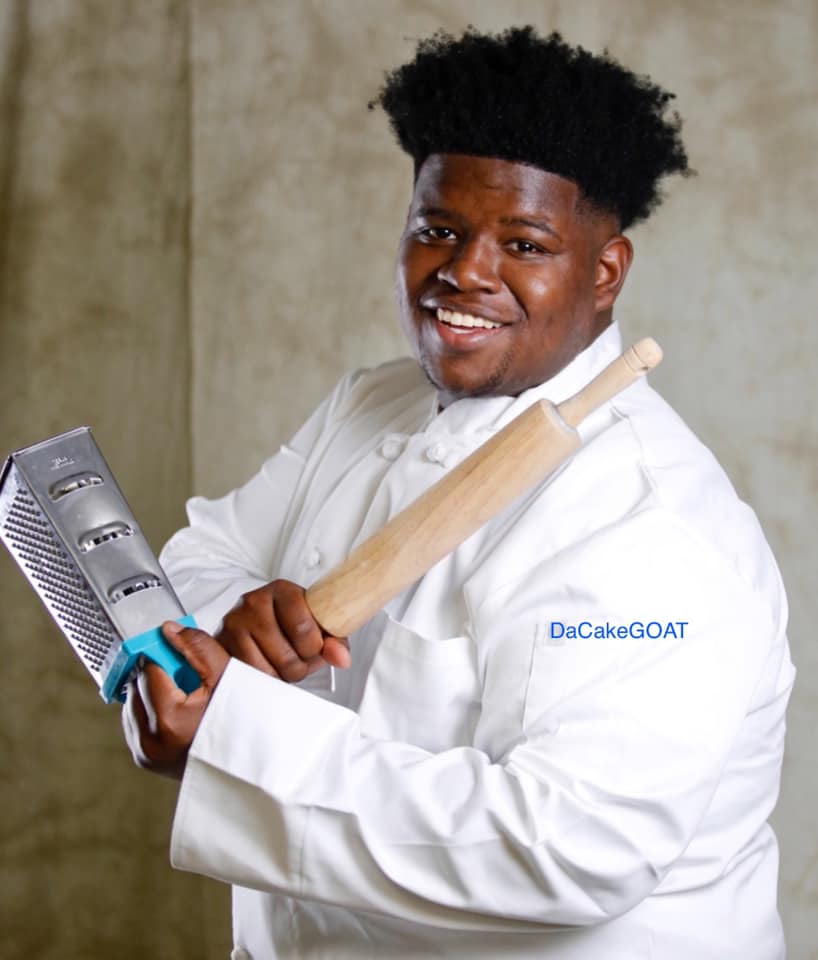 While attending Coahoma, Corterrius Allen '21 had dreams of setting out on multiple paths of greatness.
The Shelby, Miss. native was a member of the CCC choir, student government association and participated in several campus organizations with the hopes of becoming as well-rounded as possible during his Coahoma years. Ultimately, Allen graduated with honor this spring, following his studies in sociology.
Outside of his academic pursuits, Allen holds a passion and remarkable talent for baking and the culinary arts. He started his passion as most would, simply testing his skills in his home kitchen. Little did he know that curiosity would grow into a thriving business and an opportunity of a lifetime to compete on Food Network's Halloween Wars.
"I was 18 years old when I got into baking and decorating cakes. I got into the art of baking when I was a senior in high school. In my search for a job, I found myself at the Sweetery Bake Shop, where I worked as a baker, dishwasher, and buttercream maker," said Allen. "I was very observant and soon learned to bake and create delicious works of art. By the time I started school at Coahoma Community College, I also decided to start my own career in baking."
Halloween Wars is an American reality competition series from Super Delicious, the production company that also produces Cupcake Wars and Cake Wars. The show pits eight teams made up of cake sculptors and sugar artists against each other to create the ultimate Halloween-themed display.
"Getting on the show almost puts me in the mind of something too good to be true. I had just begun my career and thought it would be nice to showcase my talent and learn more while competing with other talented bakers and cake artists," Allen added.
He said that he began researching opportunities to showcase himself, and that journey all started with a web search.
"I began searching on the internet for competitions that I could enter. I signed up for different competitions and soon started to receive emails that included an application for Halloween Wars. I submitted the application along with photos of my best work. After quite a bit of time had passed, I started to think it was a scam," he shared.
Scheduled to premiere on Sunday, September 19, at 8 p.m. (CST), Allen is excited to bring his talent to a national audience and act as an ambassador and representative for the Mississippi Delta region. Allen will be teamed up with Holly Webster from Las Vegas, Nevada, and Amy Strickland from Orlando, Fla., as part of the competition.
He explained that his time at Coahoma has helped him along his journey thus far.
"I would say that CCC helped to empower me. My experiences at CCC, along with the support from the faculty, staff, and my amazing instructors, aided in me working to achieve my desired goals," said Allen. "CCC also empowered me by teaching me that failure is not an option, never give up, reach for the stars, and know that the sky is the limit. Because of the encouragement and support that I received at CCC, I know that if I continue to work hard, stay focused, and never give up, I can and will succeed. I would also like to give a major thank you to Mrs. Vivian Williams. She inspired me to be my best self during my time at Coahoma. I could never thank her enough."
Allen hopes to put his best foot forward, displaying the very best of his skills.
"I am most proud of my 3D/ realistic cakes because I feel as if those designs landed me on the show," Allen proudly touted.
Each episode has one round, where the teams of trios get 45 minutes to create their interpretation of a spooky scene or theme. Each week a team will be sent home until one winning team remains.
He sees this exposure as an excellent opportunity to invest in himself, building his personal brand, and credits the support of his mother in bringing him to this most esteemed moment.
"It feels good to know that I have 1,200 plus likes on my Facebook business page! I worked so hard to build a brand, and it is finally paying off! I just want to thank everyone who believed in me, and I just want to give a major shout-out to my mom, who believed in me first. We started my business with a $35 Cake kit and two cupcake pans," Allen added.
Interested parties can stay in the know of Allen's via his Instagram and business Facebook accounts.