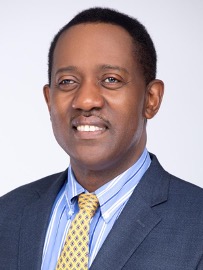 While most in education receive a break from the hustle and bustle of the classroom during the summer months, Richard Cosby, Sr. Ph.D., Biology instructor, had the unique opportunity to participate in the Summer 2021 CBBG Research Experiences for Teachers (RET) Program.
The RET program at CBBG allows local, STEM-focused K-12 teachers and community college faculty to participate in cutting-edge laboratory research and use their testbed facilities. In addition, teachers engage in curriculum development to develop grade-level appropriate lesson plans based on their project research to be implemented in their classrooms.
Cosby, who is in his third year of teaching at Coahoma, was proud to participate in the program and felt fortunate to receive the opportunity. He has ties to the institution as a former student and enjoys being back on the Coahoma campus.
"I am a graduate of Coahoma Agricultural High. I also attended Coahoma Junior College. One thing that I like most about working at CCC is being around people that are concerned, compassionate, and committed to helping students achieve their life-long goals," said Cosby.
While attending the RET event, Cosby had the opportunity to present alongside some of the best and brightest in academia. Reflecting on the experience, Cosby feels proud of the accomplishment.
"The experience of presenting research to the National Science Foundation (NSF) was very enlightening, exciting, and filled with enthusiasm. It is not often that a faculty member gets to present their research findings to such an esteemed group of scientists," Cosby added. "The presentation was about "Microbial Induced Calcite Precipitation (MICP) to Enhance Soil Stabilization."
Cosby hopes that his research will have an impact on a global level.
"The purpose of the presentation was to provide the most current and relevant information to the National Science Foundation (NSF) about Georgia Tech," Cosby explained. "Soil liquefaction is a serious environmental hazard that has led to many human fatalities throughout the world. It is the process that causes soil to temporarily lose strength and behave like a semi-solid fluid rather than a solid. Due to research, incidents of soil liquefaction like what has occurred in coastal areas like Florida, China, Louisiana, and India may be remedied or completely alleviated."
Being passionate about education, he believes that his participation in the program will aid him in his day-to-day teaching routine. He hopes that he can bring valuable knowledge to the campus community.
"My participation in the Center for Bio-mediated and Bio-inspired Geotechnics (CBBG) RET's research has allowed me the opportunity to learn state-of-the-art engineering techniques, gain insight into different instructional techniques and modalities of teaching that will continue to enhance my effectiveness as an instructor of Biology and a researcher," said Cosby.
The RET program seeks K-12 and community college teachers who have an interest in engaging with the Center in these objectives through a financially supported summer Research Experience for Teachers (RET) program in the CBBG laboratories at the ASU campus. Teachers will have the opportunity to directly participate in research as well as develop a related lesson plan that they will take back and incorporate into their own classroom in the coming academic year.
As Cosby continues his career as an educator, he hopes to make more significant impacts in the classroom.
"It is my hope to increase student awareness, involvement, and subsequently obtain a degree in one the vast and diverse careers in the Natural Sciences /STEM's. I also hope that one day this student will have a profound impact on world issues related to Natural Sciences/STEMS," said Cosby.