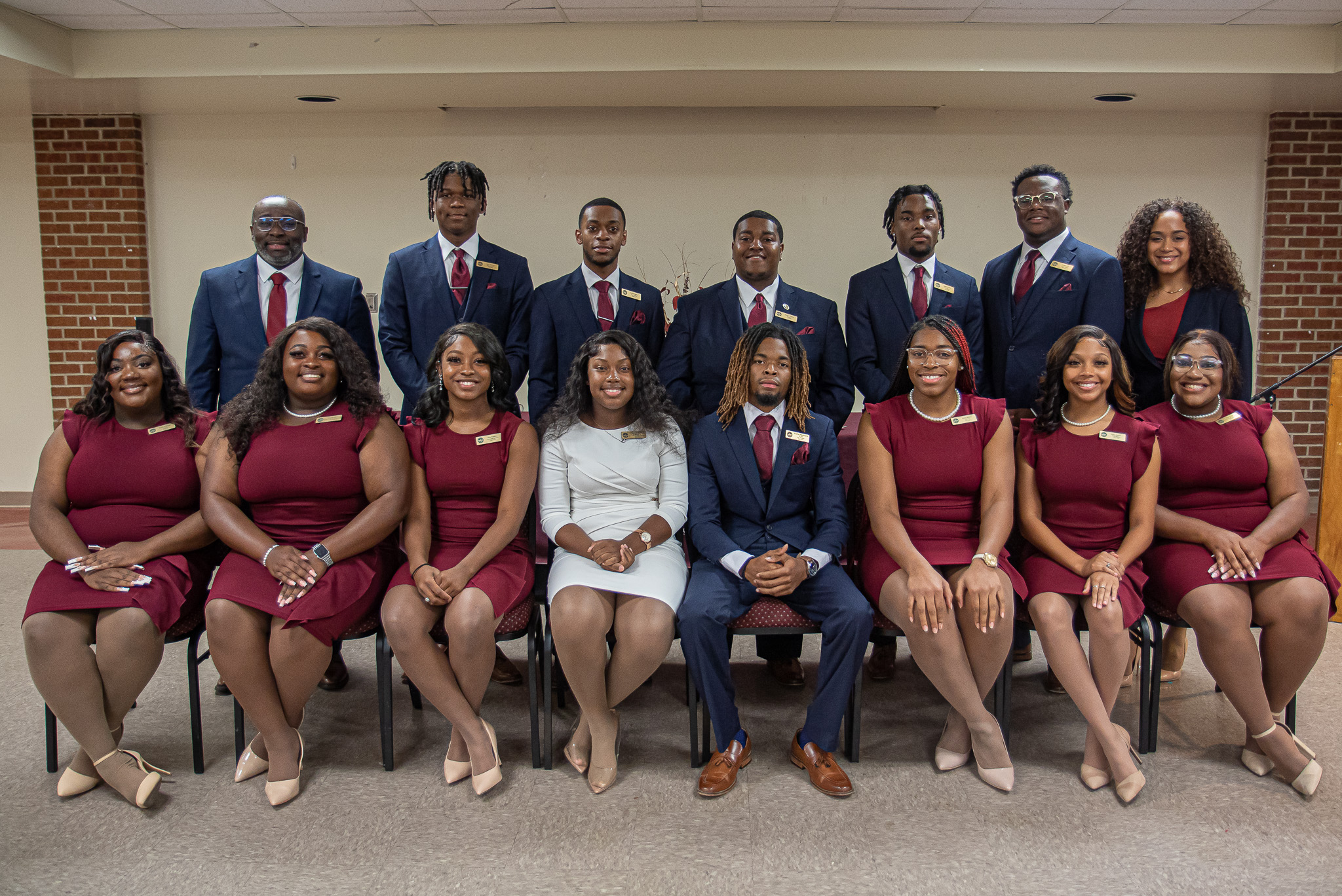 In-mid November, the 2022-2023 Coahoma Community College Student Government Association (SGA) officers were officially pinned in front of family, friends, and a proud campus community. The ceremony, which took place in the Zee A. Barron Student Union, officiated these students as campus leaders. The annual event is a Coahoma tradition and acts as a rite of passage for these scholars.
Undra Haggan, MSN, FNP-C, served as the guest speaker for this ceremony and shared her "wisdom of pearls" to help guide their educational journey and throughout life.
"A leader leads with integrity. Webster defines integrity as the state of being honest and having strong morals and principles. In simple terms, being upright and doing right when no one is looking," said Haggan. "A leader must be a servant and willing to become a servant. Sometimes you have to serve when you are tired, discouraged, or without expecting a reward. Leaders must serve with gladness, dedication, and meeting people where they are."
On the Coahoma campus, the SGA is a group of students elected by their peers to advocate for the student body. Each member of the organization puts their time and dedication into improving the Coahoma experience. The student-led group ensures they don't just talk about it, but they work actively to bring change.
Continuing her positive charge to the eager group of young Coahomans, Haagan shared with students that a leader must be an effective communicator.
"An effective leader is a communicator that listens, instead of just hearing and problem solves versus being the problem, leads without expecting the occasional pat on the back, and makes sure to follow on their commitments."
Haggan concluded her speech by telling students to stay focused on self-power, noting that there is more strength in unity and building one another up.
"A servant leader with integrity, effective communication skills, and being problem solution-oriented can shift negative perspectives. Once the perspective is changed, lives are changed. Once lives are changed, communities are changed, and the possibilities are endless," said Haggan. "The best way to find the leader in you is to lose yourself in service to others."
One student leader that is thrilled to be an SGA member is Kantiria Taylor of Duncan, Miss.
Serving as Miss CCC and assistant student activities chair, she shared her gratitude and appreciation for this pinning ceremony.
"I am super proud of this big accomplishment for myself and my family. We get to uphold such a title that allows us to bring fresh ideas to the campus that affect not only students but also faculty and staff. We are now the faces of Coahoma, and it couldn't be more amazing," shared Taylor.
Taylor added that she hopes to see some of their ideas and changes come to fruition for the institution next semester.
Coahoma Community College president Dr. Valmadge T. Towner made closing remarks and congratulated the group for their achievement. He shared how this is a massive deal to the students and teaches them the importance of development in leadership.
"This is a huge deal and goes into teaching the morays of leadership, and this is something that you can be proud of for years to come," said Towner.
2022-2023 SGA Officers
Jaivian Hughes - President
Isaias Collins - Vice President
Jaden Guy - Parliamentarian
Aren Wilkins - Sergeant at Arms
Jo'Wani Jone s- Student Activities Chairperson
Kantiria Taylor - Miss CCC/Assistant Student Activities Chair
Stephan Washington - Mr. CCC/Assistant Treasurer
Elishia Wilson - Treasurer
Jayda Anderson - Secretary
Erin Rivers - Business Manager/Assistant Secretary
Kalyn Jordan - Public Relations
Deja Fondren - Multimedia Specialist
Jamil Griffin - Event Manager