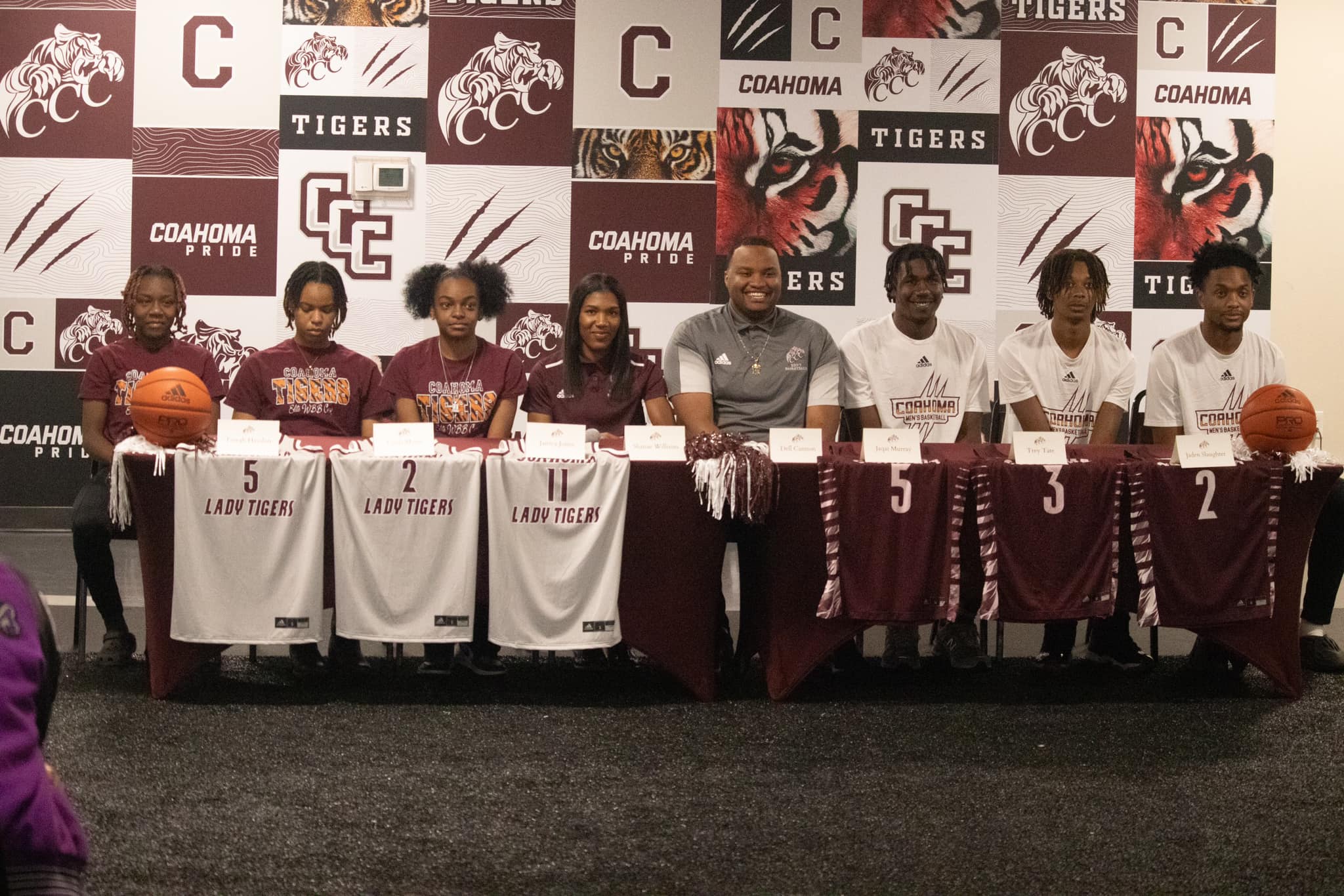 CCC Women & Men Basketball Hosted a media day special on Monday, October 30th in the S.A.F.E. Center.
This event provided a unique opportunity to get an exclusive behind-the-scenes look at our Women's and Men's Basketball programs and meet the coaches and student-athletes who make our teams shine.
Coach Shanae Williams introduced three players, Janiya Jones, Cayla Myers, and Tereah Hayslett and Coach Dell Cannon also introduced three players, Jaqai Murray, Trey Tate, and Jaden Slaughter, to represent their teams and answer any questions the press had.
During the event, the upcoming season's schedules were unveiled, discussing the team's prospects, and media representatives were allowed to interact with the players and coaching staff.
A representative from the press was curious to know how two of the players from the men's team, Jaqai Murray and Jaden Slaughter, decided to attend Coahoma Community College from Buffalo, New York. They both shared their experience on how they were recruited and the relationship they had with the assistant basketball coach, Jaquay Walls.
Representatives also wanted to know how this team differed from the last and how they took time to get to know each other. Coach Williams took the lead in responding, emphasizing that the women's team dedicates significant time both on and off the court. They actively engage with the players to understand their goals and strategize on how best to support their achievement. Meanwhile, Coach Cannon conveyed that the team has gained momentum, attributing the enhanced depth in their roster to the addition of new members this year.
This year's style of basketball for the women's team will be played fast, up-tempo, and controlled, and make sure they get at the opposing team defensively. The women's basketball team comprises 11 members, and Coach Williams says that she stresses that the team must play to their strengths.
The men's basketball team's style will consist of ups & downs, shooting for 3's, and trying to defend the opponent first. This year's teams like to have a versatile style, and Coach Cannon says they have much to be excited about.
Coach Williams and Coach Cannon aim to get these students to their best potential to push them to be better players than how they came in. Their overall goal is to ensure they succeed academically and get to their next phase in life.
If you missed the CCC Basketball Media Day, you can catch the live stream at: https://bit.ly/4793Q0i
To see this year's basketball schedule, visit: www.coahomasports.com