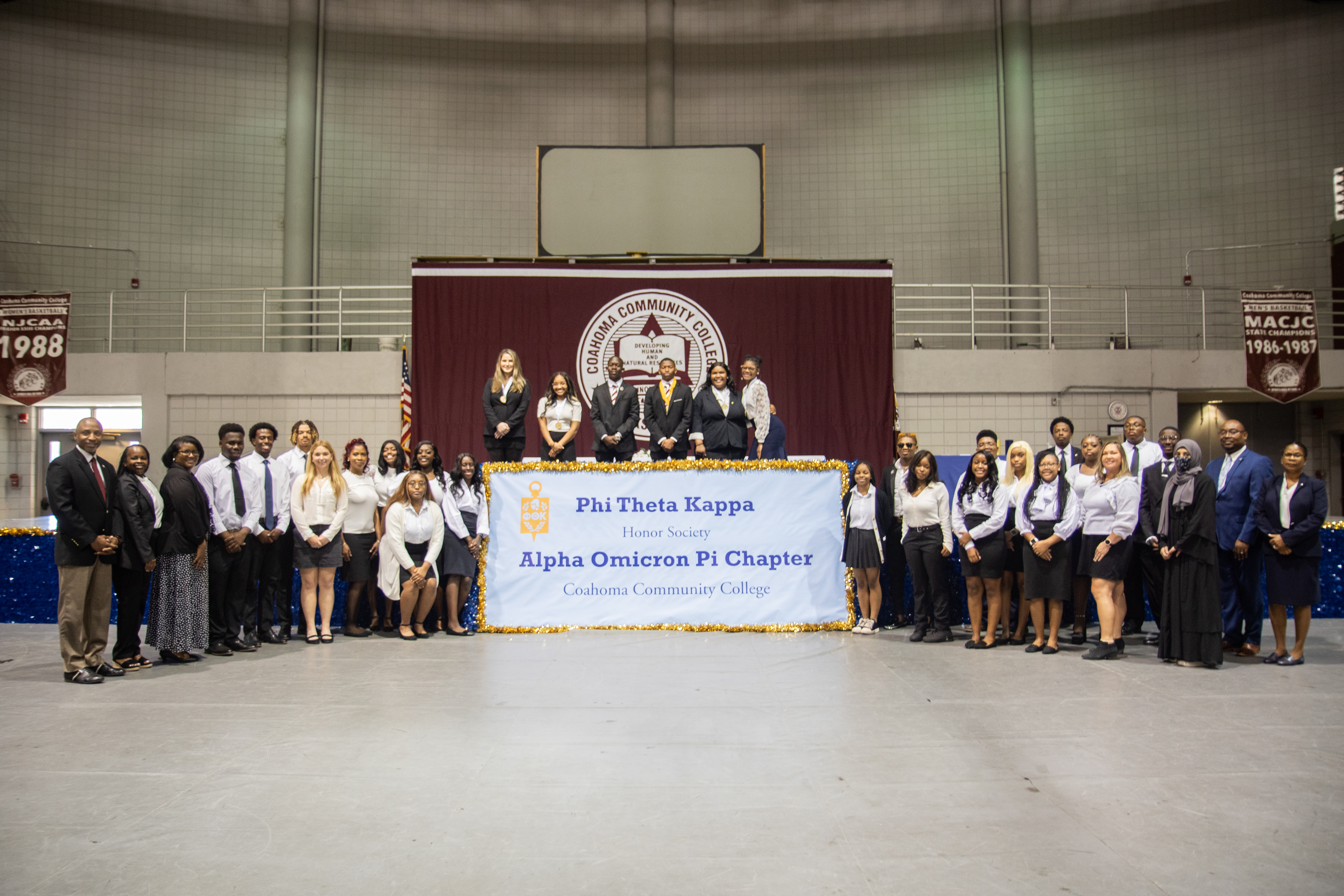 On Wednesday, October 25, 2023, the Alpha Omicron Pi Chapter of Phi Theta Kappa (PTK) held its Fall 2023 induction ceremony. This event occurred in the Pinnacle as 27 inductees were honored into the honor society.
Established on the Coahoma Community College (CCC) campus in the fall of 1988, PTK has been active for nearly 30 years on this very college campus. With 1,350 chapters at two-year colleges worldwide, PTK is the largest honor society in higher education. Phi Theta Kappa aims to recognize and encourage scholarships among two-year college students.
To open up the ceremony, greetings were given by PTK Treasurer Kyrstin Newson, Mr. CCC, Vinterrious Hunt, and Ma'Khai Bullock, the PTK Vice President of social media.
The Phi Theta Kappa Honor Society ceremony came after recognizing individuals with 15 semester hours at Coahoma, a cumulative GPA of 3.5 or higher, and unblemished conduct and character.
Dr. Nekedra Blockett, Director of Admissions and Records/Registrar at Coahoma Community College, served as the speaker for this joyous occasion.
Blockett is a Cleveland, Mississippi native who has been in the education field for years. She has an outstanding educational background with a Bachelor of Science in Social Science from Delta State University, a Master's in Counseling Studies from Capella University, a Master's in School Counseling and Education Specialist from Delta State University, and a Doctoral Degree from Capella University in Educational Leadership. She also upholds many certifications.
She shared with the inductees the importance of having a great support system because life is full of challenges, and it takes hard work to achieve what inductees have accomplished. She also shared her college experience and how those decisions made her who she is now.
Blockett expressed to students how the journey was not always easy, but she made it through. She also encouraged students not to let anyone deter them from their dreams and that every aspect of their life should be embraced within their education.
She continued her speech by inspiring students to know their purpose and why it is important to finish what they started.
"Don't quit; sometimes, the things you hope for come unexpectedly. Don't be afraid of change; you may lose something good but gain something better. When you look back on it, don't think of it as a year of pain, but a year of growth," said Blockett. "You made it through each day and should be proud of yourselves. Despite all the hardships, you are a better you; take a deep breath and enter this significant milestone with hope and confidence."
She concluded her speech by informing students that the CCC community wants its students to succeed in their future endeavors, and PTK is just one piece to help inductees get there.
Phi Theta Kappa scholars then became inducted as new honors society members by walking across the stage and getting their certificates—special recognition and words of Encouragement by Kendrick Matthews, PTK president.
To conclude the ceremony, Dr. Rolanda Brown, Dean of Academics, congratulated inductees and thanked many key CCC members.
Dr. Valmadge T. Towner, Coahoma Community College President, also shared a few remarks and recognitions. He expressed to students that community colleges only get a few accolades like four-year colleges do, but if people knew then what they know now, many would have come to a two-year college.
He shares with students that PTK is a big deal in their development as students, and it also officially legitimizes community colleges. Phi Theta Kappa is placed on students' transcripts and degrees, and students will receive cords for graduation. He also shares that he was inducted into the first Phi Theta Kapp class on Coahoma Community College campus.
"You all make Coahoma Community College what it is by being a part of this honor society and keeping it existing. No matter what program you are in, you are amazing, and your future is bright wherever you go," said Towner.
To see more information about Phi Theta Kappa Honor Society at CCC, please visit: https://www.coahomacc.edu/ptk/