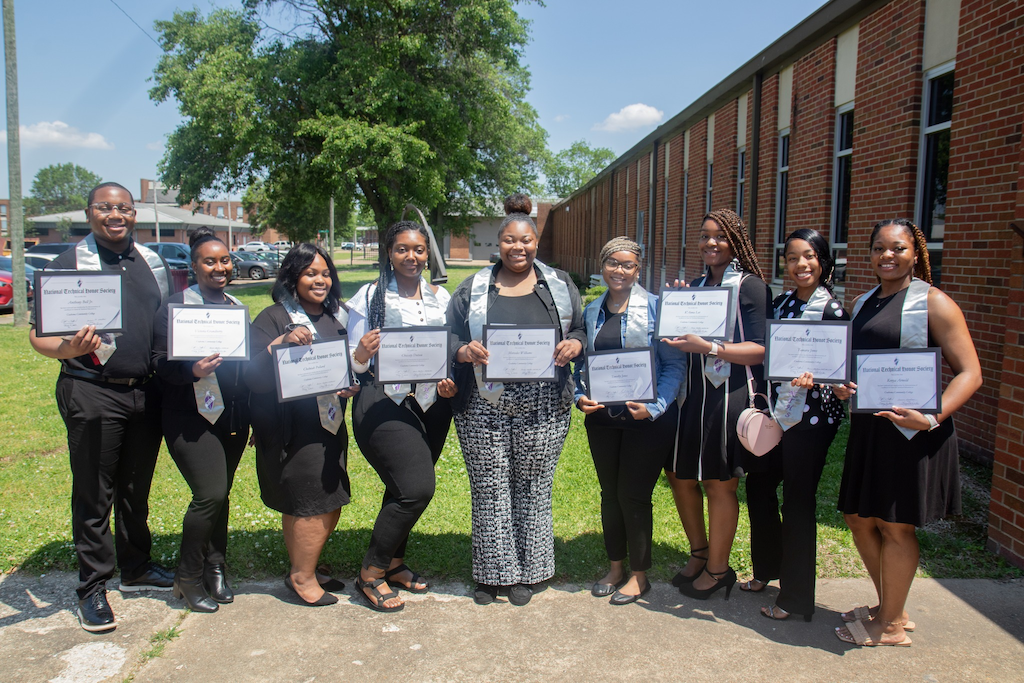 On Tuesday, May 9th, 2023, the Coahoma Community College (CCC) Division of Career & Technical Education held its induction National Technical Honor Society ceremony. The event took place in the B.F. McLaurin Building's Gallery, recognizing more than 30 inductees.
Established in 1984, the National Technical Honor Society continues its mission to lift up and publicly recognize all heroes, men, and women committed to excellence, values, courage, and achievement.
Nadjah Sharkey, a sophomore healthcare data technology major, expressed gratitude for being a part of this honor society. She is excited to explore the potential opportunities that exist with membership in the organization.
"Getting inducted into NTHS was a wonderful experience. I felt honored to get recognition for my dedication and hard work," said Sharkey. "NTHS offers many opportunities, from scholarships to much more which excites me for what's to come in my future."
Dr. Manika Kemp, Career and Technical Education Director of the Coahoma County School District, served as the keynote speaker for this year's program.
Kemp congratulated students on their hard work and dedication to their career pathways that will broaden their network, resources, and exposure to the workplace and world around them. She also told these Tiger scholars that being inducted into this prestigious honor society will require several expectations of them.
"Expectation number one is to be a life-long learner and to accomplish this, you must be able to continue your educational journey by remaining in school or sharpen your skills through life and work experiences," said Kemp. "It is your professional responsibility to attend conferences and workshops for additional training."
She advised students that taking these steps in expectation number one will allow them to build their capacity in their skills and build their career portfolios.
"Expectation number two, be a servant to your community because community service is essential. Giving back to your community shows dedication, leadership, and selflessness," said Kemp.
She urged the scholars to show pride and responsibility to their community as it fosters improved self-esteem while being a national technical honor society member.
"Expectation number three always displays high standards. Having a career is wonderful as long as you enter the workforce with unwavering integrity," said Kemp. "You want to make sure you are doing the right things not just for a few times or a few minutes but you that are doing it all of the time, 100 percent of the time. Remember, your word and actions are all that you can control."
Kemp ended her speech by sharing that Career and Technical Education (CTE) is a gateway to one's career path as a lifelong learner and community server.
"It provides opportunities for highly skilled, high wage, and in-demand occupations that require a display of high standards," she said. "CTE also provides ways to improve academics and technical skills."
She also encourages students that they were chosen to be here because they were proficient both academically and by technical standards.
Students received honors certificates, and the service was concluded by reciting the National Technical Honors Society pledge.