Coahoma Community College has proudly named Eddie L. Buggs Jr. as the 2023 Humanities Teacher of the Year.
Buggs, who joined the Coahoma family in 2021, currently serves as director of bands.
The award recognizes outstanding contributions of humanities faculty during October, which is National Arts and Humanities Month, and at the council's annual awards ceremony in the spring.
Dr. Rolonda Brown, dean of Academic Affairs, is proud to have Buggs among her ranks. She sees him as a selfless servant leader and values the work he does on a daily basis.
"Mr. Buggs was chosen for this honor because of his tireless efforts to positively impact our students and our community. He has shown tremendous dedication to his craft as a teacher and as a band director. His students are prepared to play and shine whenever they hit the field," said Brown.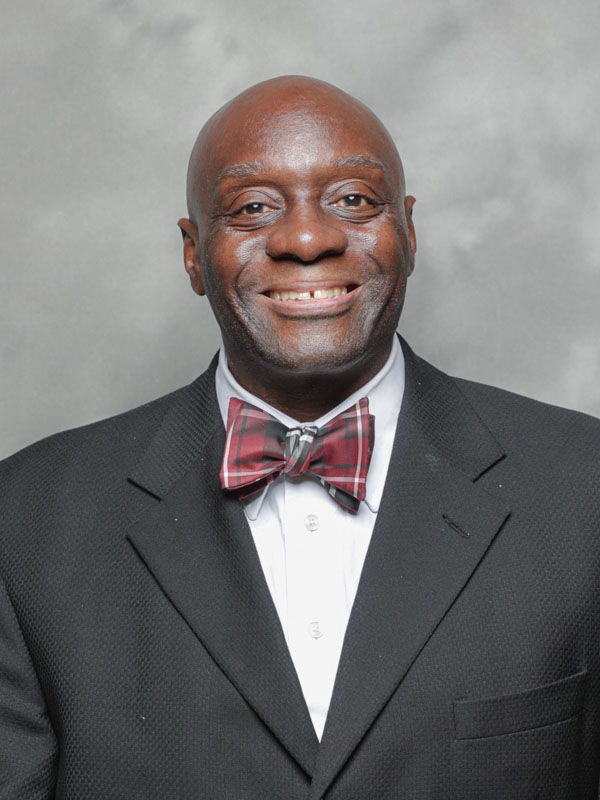 Before entering his role at Coahoma, Buggs served as a visiting professor of brass instruction at Stillman College. He brings roughly 19 years of directing and teaching experience at the post-secondary level.
Brown noted that Buggs, who is a talented trumpeter, has a passion for student success and that is evident in each of his interactions with his students.
"In the classroom, he shows up consistently prepared to teach, engaging students and helping to foster a greater appreciation for music and its place in the modern age as well as in history," Brown added. "When called upon in the community, he has many times interrupted his schedule to serve other schools, community events and organizations. When he shows up, he doesn't just show up half-heartedly. He does his very best every single time!"
Buggs' music career began in Atlanta, Ga., at his alma mater Morris Brown College. There he earned his bachelor's in 1988 and held the title of assistant band director from 1996 until 2005, leading the marching band in selections from a variety of genres, including rhythm and blues, jazz, gospel, and classical. Developing more experience, he continued as an assistant director at Mississippi Valley State University, also serving as its Pep Band director. In 2007, Buggs was tapped as the director of bands at Mississippi Delta Community College, where he also served as an instrumental music instructor.
As part of the honor, he will deliver a lecture on a topic of his choice. Buggs will make his presentation on Thursday, March 1, at 1:30 p.m. in the Gallery.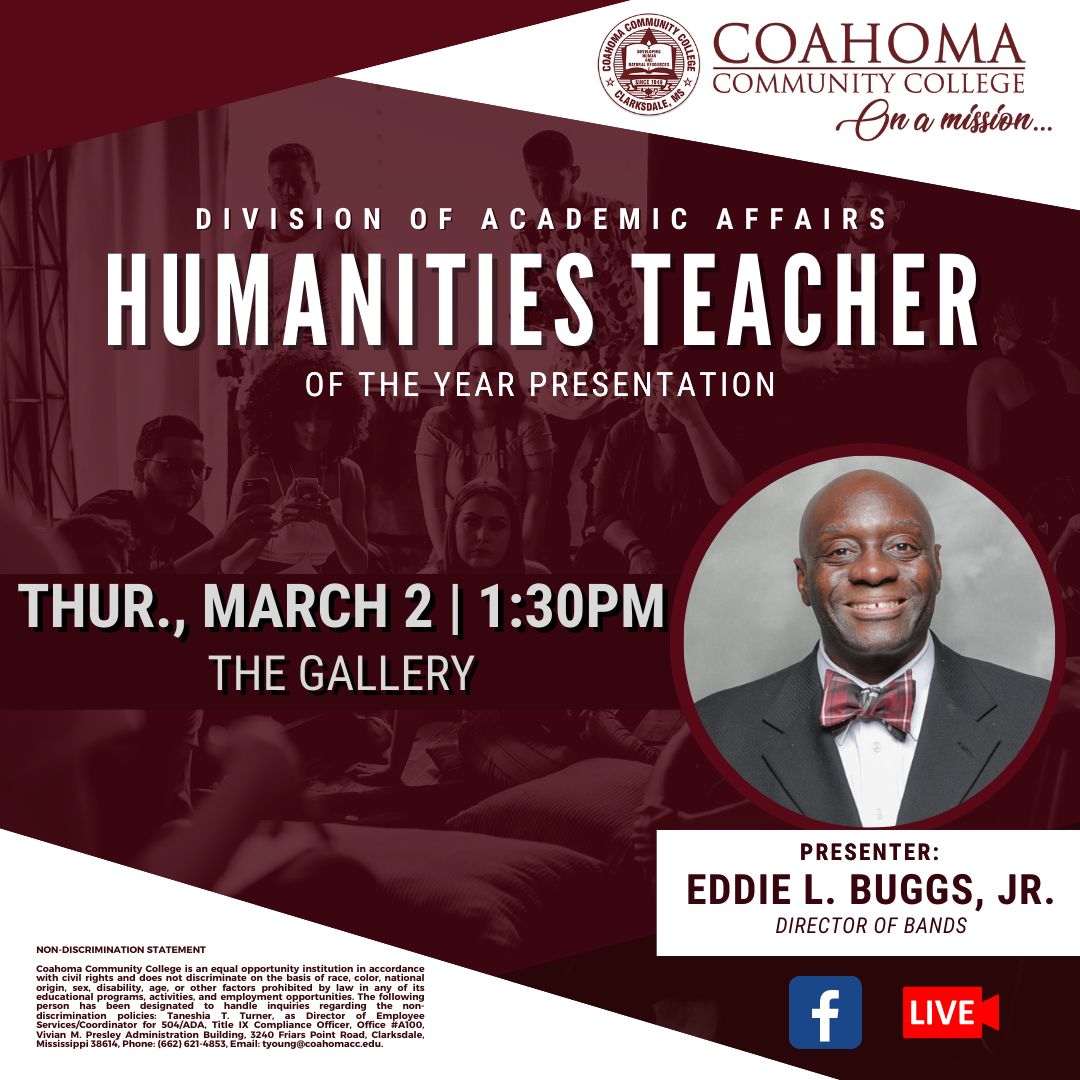 Recognitions like this are something that Brown believes is needed, adding that it is important that exceptional individuals be recognized for the great work they do.
"These acknowledgements are a reminder that what you do matters; that you are having a positive impact in your community and in the lives of your students," she added. "It reminds you that your work and service are not in vain and that your presence, who you are, and what you bring to the table is not only felt but welcomed by those around you."
Buggs began following his passion by taking commercial music/music education courses at Florida Agricultural and Mechanical University. He attained a Master of Liberal Arts in music from Alcorn State University in 2019. Eye always set at improving, Buggs is currently pursuing a Master of Music Education in wind conducting. He is a member of Omega Psi Phi Fraternity, Incorporated, Kappa Kappa Psi Band Fraternity, the National Association for Music Educators, the HBCU National Band Directors Consortium, the Minority Band Directors National Association, the College Band Directors National Association, the Alabama Bandmasters Association, Georgia Bandmasters Association, and Mississippi Bandmasters Association.
When asked why he thought he had been recognized, Buggs humbly shared that he did not know why he had been selected for the honor, further solidifying his humble nature and utter dedication to his craft and students.
"Honestly, I have no idea of why I was chosen for the Humanities Teacher of the Year, however I'm extremely honored to be chosen," said Buggs. "I pray that there is an improvement of the program and student-musicians that provided a greater source of pride."
Buggs simply enjoys working to better young people. Education is at his heart and hopes to make impacts daily.
"What I enjoy most about being an educator is seeing the light of understanding appear in students' eyes. What I enjoy about Coahoma is that first, and foremost, it's an HBCU. I'm a strong proponent that African-American educators must teach at HBCUs," Buggs added. "With Coahoma being a community college I'm faced with developing a fundamentally sound program that can flow from year-to-year."
Brown believes Buggs to be very deserving of the honor and appreciative to have such a dynamic educator as part of Coahoma's diverse family.
"He deserves this! It speaks to years and years of cultivating a love for music in those he meets. The study and appreciation of the humanities will continue as long as people like Mr. Buggs are present," Brown touted.
Buggs is thankful for what he is privileged to do on a daily basis and simply wants to continue to make a difference in the lives of his students.
"Acknowledgements such as the Humanities Teacher of the Year are important because it's great to know that your work (improvement) is being noticed and appreciated," said Buggs.