Coahoma Community College is calling upon its faithful alumni, students, staff, faculty, and friends to help us return to the winner's circle in 2023 and to claim the $150,000 cash prize in this year's annual "Retool Your School" campus improvement grant program.
Back for its 14th year, The Home Depot strives to give back to our nation's HBCUs what they have so generously given to their communities: a strong foundation, renewed purpose, and distinctive character. Since 2009, the Retool Your School Program has provided over $5.2 million dollars in campus improvement grants that allow HBCUs to make sustainable improvements to their campuses.
In 2019, 2020, 2021, & 2022, Coahoma won grants totaling $275,000. The funds were used to construct numerous multipurpose outdoor spaces and to refresh a variety of areas throughout the CCC campus.
CCC President Dr. Valmadge T. Towner is thankful for all the previous and current support from a responsive and proud Tiger Nation! He is confident that Coahoma will once again secure the coveted title and grant award.
"We are back on the grind for Retool Your School 2023. Because of the help of our friends, partners, and extended campus communities, we have experienced success with the Retool Your School campaign for four consecutive years," said Towner.
This year, CCC is chasing our FIFTH-CONSECUTIVE WIN! The social media-driven grant competition, sponsored by Home Depot, Inc., relies on a combination of online voting and social media posting to determine its winners. Voting begins on Sunday, February 26, at 11:00 p.m. CST and extends through Sunday, March 26.
"We are asking everyone to join our students, faculty, and staff as we endeavor to win for a fifth consecutive year. Coahoma can win again only if we receive daily votes from all of our supporters as we have done so in the past," Towner added.
The Home Depot has grown its flagship Retool Your School Campus Improvement Grant Program significantly, doubling the total grant pool to $2M awarded between 30 HBCUs. Every HBCU has the chance to win a grant between $40,000 to $150,000.
Grants are awarded based on the total popular vote that combines unlimited daily online voting at www.retoolyourschool.com/vote and social media "voting" that counts Twitter and Instagram posts that include the hashtag #RYSCOAHOMA.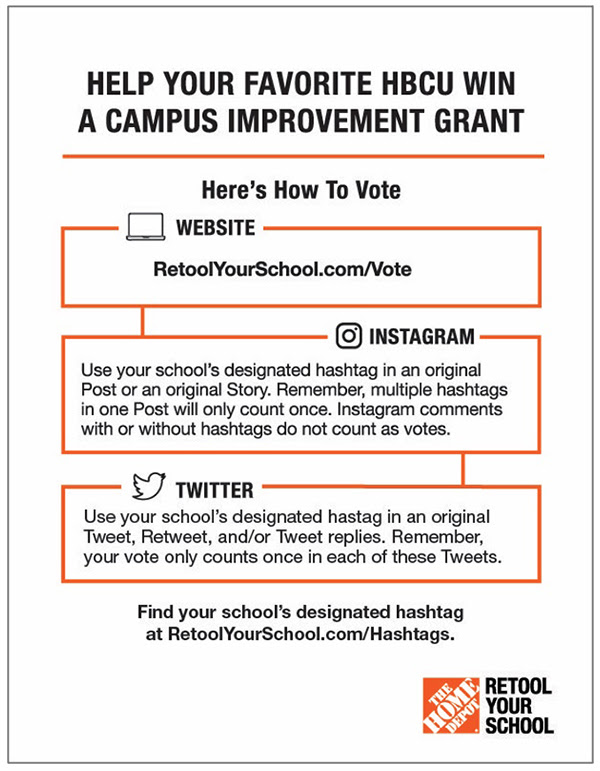 "Our students need you. Our college needs you. Vote as often as you can and encourage your network of family and friends to do the same. Remember, you can vote as often as you like," said Towner.
New in 2023, Retool Your School will award 10 HBCUs need-based grants to turn existing campus spaces into lounges. Innovation lounges are student spaces limited only by imagination. Coahoma has submitted an application for this initiative.
"Let's put Five on it and win during this fifth consecutive year. Once again, we are the small, long-shot college, but we know how to win. Let's go," Towner exclaimed!!!"
For official rules and regulations, click here https://retoolyourschool.com/rules/.