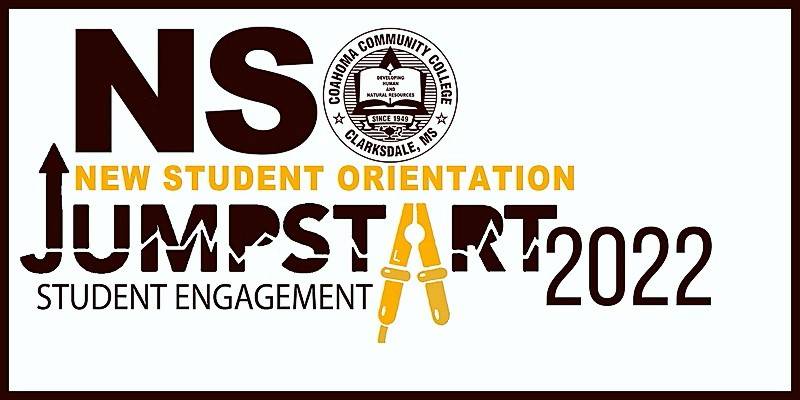 New Student Orientation JumpStart 2022
Wednesday, August 10, 2022
About NSO
NSO-JumpStart is a program designed to give residential, as well as, commuter students a head-start on the on-campus/student life experience. This event will briefly introduce the college's expectations, student life, admissions, instructional programs of study, housing, financial aid, fees, expenses, student health, insurance, goals, mission, policies, retention tips, and counseling services. The orientation will be held in the Safe House Dome on campus. For more information, please email: orientation@coahomacc.edu or call (662) 621-4155.
Click here to Register
Wednesday, August 10,
| | |
| --- | --- |
| 8:00 a.m. | Check-In/Breakfast |
| 9:00 am | Opening Session |
| 11:30 am | Q &A/Dorm Assignments |
| 11:45 am | Dismissal/Campus Tours |
| 12:00 pm | Lunch |
| 1:00 pm | Move-In |
| 5:00 pm | Beach-Party/Cookout |
T-shirt will be provided
Beach wear/gymshoes for evening activities
Pen/Pencil
Electronic devices
For accommodations, it is important to bring the following items:
Personal toiletries
Personal sheets and pillow for the bed (twin XL)
Towels and washcloths
Disinfectant spray
Shower shoes
Iron
Medical items
Sleepwear
Fridge/Microwave
Clothing for daily activities (class, clinics, camps, service projects, etc.)
On campus accommodations offer air-conditioned rooms, cable tv, internet access, free laundry, snack areas, and campus security.
CCC campus and all facilities are non-smoking and tobacco free.
---
CCC Requirements
Admissions, Financial Aid & Housing
Financial Aid
Complete the FAFSA form online at
https://studentaid.gov
Fall (2022-23 Form) Need 2020 Tax information
Housing
Completed Admissions requirements
Completed Financial Aid requirements
Have received class schedule
Bring a Negative COVID test before moving in.
Housing application submitted through MyCCC web portal with a $100- Fall deposit (check, money order, or business office processed payment)
Orientation (Student Engagement): (662) 621-4155 / orientation@coahomacc.edu
Admissions: (662) 621-4295
Financial Aid: (662) 621-4200
Housing: (662) 621-4039 or 902-5859
Athletics: (662) 621-4223
Band: (662) 621-4147
Choral: (662) 621-4212