To promote a healthier campus, Coahoma Community College adopted a smoke-free campus status on January 1, 2018. The policy, established after consultation with the campus and surrounding community, includes all buildings, facilities, and college-owned vehicles on all institutional properties.
The policy seeks the cooperation of all who work and study on campus and those who visit the college. It relies on peer support, supervisory oversight, and voluntary compliance.

As part of our overarching drive to shape a better Mississippi Delta region, this campus-wide program hopes to encourage wellness within the community. As an institution, Coahoma is committed to helping those who wish to quit.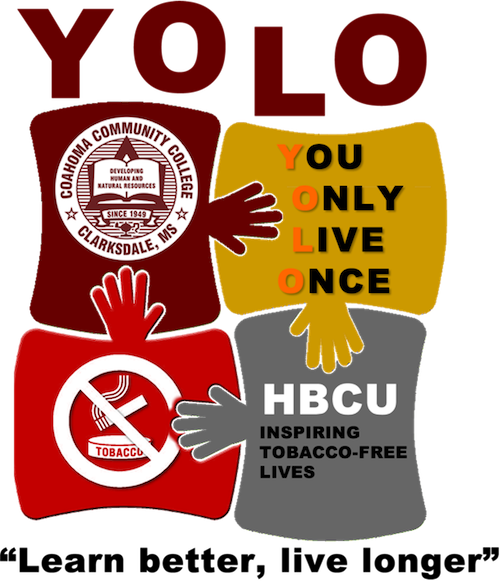 ---
HOW TO QUIT
Quitting tobacco products is a great choice for your health; however, it can also be very difficult. Visit our health center to talk with a registered nurse and discuss the best way to become tobacco free.
You can also check out some online resources and talk to your healthcare provider.
Tobacco education and cessation resources:
---
ENFORCEMENT
The responsibility for the enforcement and communication of this policy rests with all members of the College community and the College Police Department.
Visitors, contractors, and other individuals on campus who are in violation of the policy should be reminded of the policy and asked to comply with our smoke-free campus policy.
All faculty, staff, and students who are in violation of this policy should be reminded of the policy and asked to comply. Refusal to comply with this policy could result in citations and fines.
---
Communication
Persons will be informed of this policy through:
Signs posted in appropriate areas throughout the College
Various College web sites including Human Resources, Alumni Affairs, Athletics, Health Center, Counseling Center, and others
Coahoma Community College Smoke-Free Campus web site coahomacc.edu/smokefree
E-mail communication to all employees and students
Other College publications and communications.
---
Respect and Responsibility
The success of this policy depends on the thoughtfulness, consideration, and cooperation of smokers and non-smokers. All members of the College community share in the responsibility for adhering to and enforcing this policy. Any complaints should be brought to the attention of the appropriate College authorities and anyone who complains shall be protected against retaliation.