STEM-Bridge Summer Academy

Coahoma Community College STEM-Bridge Summer Academy:
Exploring Biomedical Research
July 5-13, 2022
The Coahoma Community College STEM-Bridge Summer Academy will be held on Coahoma Community College's campus in Clarksdale, Mississippi. Twenty rising juniors and seniors from area high schools will be selected to participate in a rigorous eight-day summer residency academy (weekends are not included). The program is designed to supplement the backgrounds of students in high schools from the surrounding areas. Orientation and check-in will take place on July 3, 2022 and the participants will go home and return on Monday, July 5, 2022.
Applicants MUST complete this application in its entirety. Please include your high school report card and a letter of recommendation from your school principal or science teacher. You can NOT start and return; THEREFORE, be sure to have a copy of your school report card and letter of recommendation ready to attach below upon completion of your application.
---
Purpose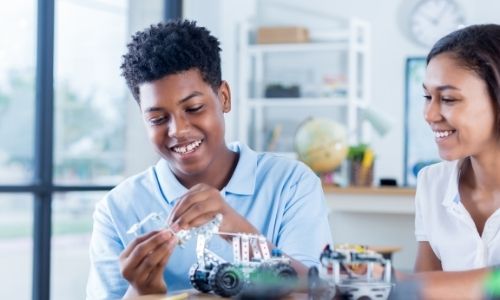 The purpose of this Summer Academy is to address each student holistically by providing enrichment that addresses the emotional, social, ethical, and academic needs of learners by designing and implementing targeted exercises offered by Coahoma Community College.
The program aims to accomplish its objectives by introducing students to the fields of biomedical research through the application of molecular biology and biochemistry in the areas of cancer research and other inheritable physiological disorders.
To accomplish this, the STEM-Bridge Summer Academy will provide instruction in critical content-areas, a problem based learning and project based learning curriculum that will including anatomy, physiology, chemistry, microbiology, and genetics.
Students will also have the unique opportunity to take a field trip to meet and talk with biomedical researchers. The academy will provide the students with analytical and critical thinking skills that will have a marked effect on students' becoming aware of the varieties of STEM disciplines. Upon completion of the program participants will receive a $100 stipend.
---
The CCC STEM-Bridge Summer Academy: Exploring Biomedical Research will select 20 rising juniors and seniors from the local area high school. Selected students must have the following:
GPA of 3.0 or above
A Letter of recommendation from the principal, teachers, or counselor
Personal Narrative of 150 words.
The Personal Narrative should include a brief overview of who you are, your careers goals and aspirations. You may also include life challenges that have motivated you to pursuit a career in STEM.
Application deadline is June 24, 2022. Students will be notified if they have been accepted in the CCC STEM-Bridge Summer Academy. Upon acceptance the parent, guardian and student is to sign a participation agreement. Participants must be fully vaccinated. Upon arriving on campus, please provide a negative COVID test.
SPECIAL NOTE: Participants must have transportation to and from Coahoma Community College. Priority will be given to students who have completed the admissions process for Fall enrollment for Coahoma Community College.
---
"Formal funding of this award will come in the form of a subcontract, issued by The University of Southern Mississippi's Office of Research Administration. Funding is contingent upon continuation of funding and approval of proposed work from the prime agency."
Coahoma Community College is an equal opportunity institution in accordance with civil rights and does not discriminate on the basis of race, color, national origin, sex, disability, age, or other factors prohibited by law in any of its educational programs, activities and employment opportunities.
---
APPLICATION IS CLOSED.