Tennessee Williams celebrated on multiple stages
Record number of students – 120 compete in annual drama contest
CLARKSDALE – On stages from Whiteside Hall and the Georgia Lewis Theatre of Coahoma Community College to the Cutrer Mansion and four vintage front porches, Clarksdale celebrated its native son Tennessee Williams over the weekend in high Mississippi Delta style befitting America's great playwright.
Although the festival was a prestigious Pulitzer Centennial event with scenes from A Streetcar Named Desire, one of his Pulitzer Prize winners, being performed several times, student actors also offered a kaleidoscope of performances from other dramas.
T-shirt ripping frequently occurs during the festival's favorite student Stella-calling competition, Bynum Gustufson from Oak Grove High School took top honors wearing and taking his time ripping through a layer of three shirts.
Matt Foss/Vandal Theatre actors Elizabeth Thompson portraying Stella and Drew McCubbin as Stanley accompanied by guitarist Stan Allyn opened the literary conference Friday morning with a brief scene from the play; took center stage in the Cutrer Mansion's Grande Reception Friday night, and repeated the drama Saturday afternoon on the porch of the Barr/Brewer house.
A record number of high school students – more than 120 – from Hattiesburg, Jackson, Brandon, Oxford, Hernando, Lake Cormorant, and Clarksdale left hometowns as early as 5 a.m. to compete CCC's elite acting competition, according to Kappi Allen, contest director.
In a structured, timed frame students compete individually in monologues from Williams plays; in a scene competition, Stella-calling contest, costume. Judges are out-of-town theatre professionals. CCC awards $3,000 in cash prizes to the high school drama department winners, and students are awarded trophies.
Winners of the scene competition include: 1st place ($700), Oak Grove High School; 2nd ($400) Northwest Rankin; 3rd, Power APAC, Jackson, $200; Monologue winners: 1st place ($500) Madison DeBerry, Oak Grove High School; 2nd ($200) Andrew 0'Quinn, Oak Grove High School; 3rd place ($100) Kingsley Nwakone PowerAPAC.
Other winners include Best Costume ($100/trophy) Greta Thorderson, Oak Grove High School; Stella Calling: Male ($100/trophy) Bynum Gustufson, Oak Grove High; Female $100/trophy Taylor Perkins, Lafayette High School; Judges Award: ($100) Kingsley Nwakorie, Power APAC; Teacher Appreciation award ($200) endowned by Dr. Colby Kullman, Suzanne Allman, Oak Grove High.
Sponsored by Coahoma Community College, the festival is supported also by grants from CCC, the Mississippi Arts Commission, the Mississippi Humanities Council, the Pulitzer Foundation, Visit Clarksdale – Coahoma County Tourism, the Chamber of Commerce, individual patrons and businesses. Partnering with the festival are the City of Clarksdale, Delta Blues Museum, Carnegie Public Library, the Coahoma County Higher Education Center, St. George's Episcopal Church, the Clarksdale Woman's Club, Clarksdale Garden Club, and the Sunflower River Blues and Gospel Festival.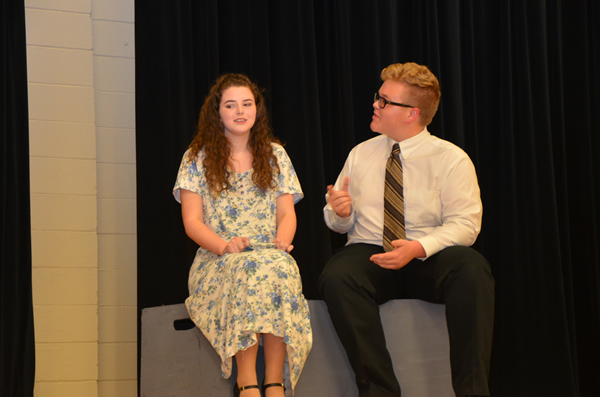 Winning first place in the scene from THE GLASS MENAGERIE, are students from Oak Grove High School.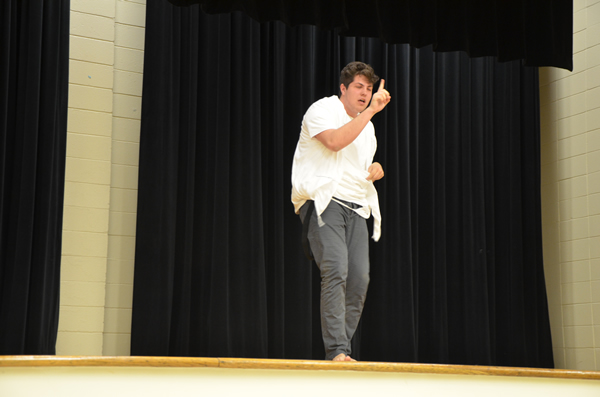 Wearing and ripping multiple t-shirts in the Stella-Calling Contest is Bynum Gustufson from Oak Grove High School.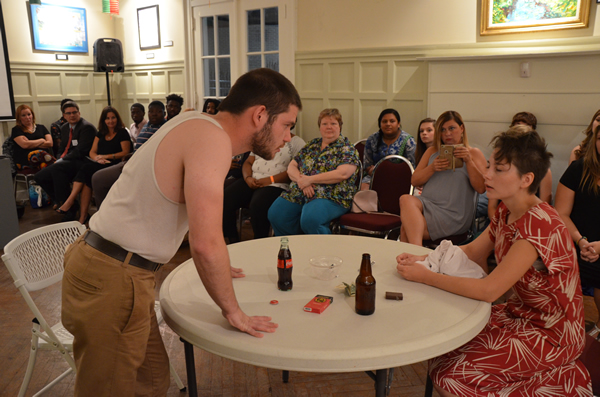 Surrounded by guests attending the festival's Grande Reception, Elizabeth Thompson as Stella and Drew McCubbin as Stanley perform a scene from A STREETCAR NAMED DESIRE in the Cutrer Mansion's drawing room